2020 Design Catalog
Catalog Updates -
Lifespan is proud to announce a few new updates to it's arsenal of tools -
2020 design catalog update available now via www.2020.net
updated product pricing, more accurate reporting, easier to use drag & drop menus & more -
2018 product catalog for use w/ our online design program
digital pdf version available for download or viewing... For use by designer or customer
product installation guide & videos -
digital pdf versions available for download or viewing... For use by designer or customer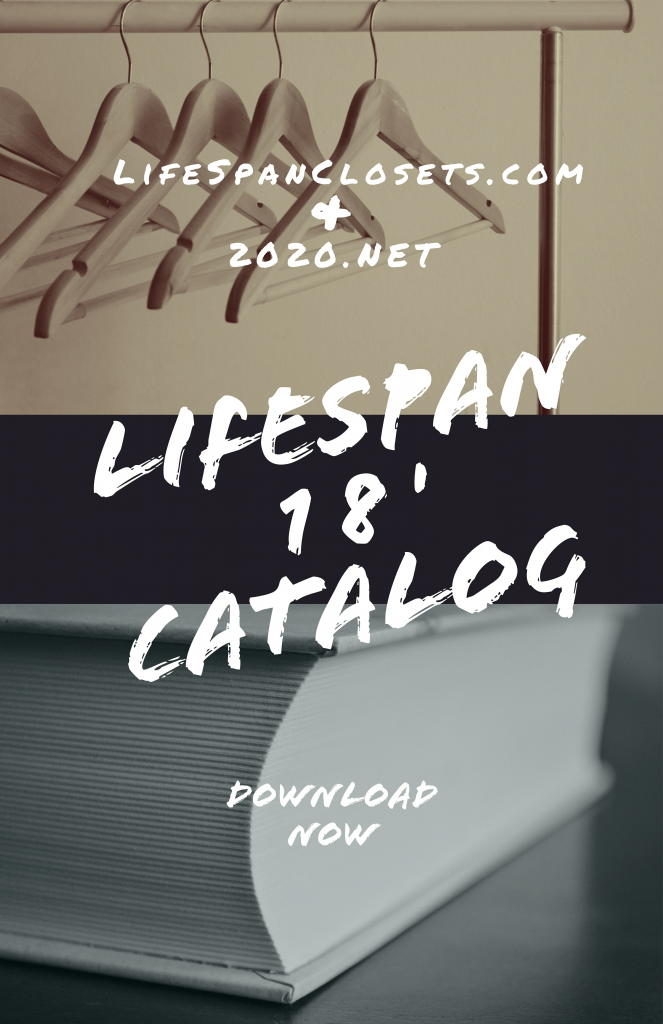 ---
DIY or professionally designed custom closet systems
When it's time to remodel your home, closets are one of the things that a resident considers. Well, even if the need for more storage area arises, the individuals consider buying a more massive closet. In the present scenario, a lot of individuals consider custom closets as the wisest option. But, they get confused on whether they should hire a professional or design and develop the closet themselves.
First of all, let's understand why people opt for DIY closet design. The major motivation is huge savings. But, in reality, only 10 percent is saved by the individuals, on an average. Unlike professionals, they don't purchase the materials and tools in bulk, due to which they have to spend more.
When you think about handling the project yourself, you will realize that it requires a lot of investment regarding time. This means the time related to your professional work or the time spent with the family is reduced. If the task is complicated, you don't even get time for the activities you enjoy. On the other hand, if you hire a professional for this purpose, you just need to discuss the requirements, and everything will be handled by him.
Another factor that you should consider is craftsmanship. The professionals come with years of expertise and knowledge related to design and development of the closet. Conversely, a resident is not completely aware of what it takes to design the best possible product. He/she usually refers to online videos for custom closet designs.
Working with tools and heavy materials can also be potentially dangerous.
When you connect with a custom closet design company online, you get a chance to design the product online through the software. At least it happens at USA-based custom closet design company LifeSpan Closets. This ensures that development of the product begins only after you are fully satisfied with the design. The appearance and functionality of the final custom closet system do not remain a mystery anymore.
That's not all! You also get a warranty from a trusted custom closet designer from the USA. All these factors that DIY project has only one benefit: it lets you save some money (around 10%). Otherwise, the majority of the benefits come only if you contact the professionals for this purpose.
---
Five accessories that can help in better closet organization
While building your dream closet, there are several factors that you shouldn't ignore. One such factor is which accessories to select. If you search online, you might get confused with so many options available. We have a tie-up with Rev-A-Shelf and Sidelines Inc. for all your accessory needs. And to help in the selection process, we have listed top five accessories that will ease up the closet organization.
1)    Sliding baskets
These baskets are ideal for closets in laundry, kitchen, or pantry use. You can also use these baskets for placing toys of your kids. A good online store offers various luxury finishes like chrome and bronze.
2)    Tie racks
If you select swivel tie racks from Sidelines Inc., you can choose the best tie according to the occasion quite easily. This rack is constructed in such a manner that all the ties can be revealed at one time, thereby making the selection simple.
3)    Ironing board
It's more of a necessity than an accessory. Save the time and hassle with a slide out and swivel ironing board. If you select the ironing board from Sidelines, you can easily swivel it into various positions within a radius of 90-degree.
4)    Mirror pullout for closet
This is one of unique accessories you will get from Rev-A-Shelf. This pullout mirror boasts a patent-pending design. Having an extruded handle, this mirror can be installed in a closet space with three plus inches of width. You can install using only eight screws. This is, definitely, one of the vital accessories to help you build your dream closet.
5)    Shoe organizers
We have already discussed in one of our blog posts how difficult it is to organize if you love collecting shoes. The shoe organizers from Rev-A-Shelf can solve this issue. You can choose from three-shelf or five-shelf design for your custom closet system.
All these accessories will let you declutter your home seamlessly and enhance the functionality of your closet. Keep checking this section for more updates from the realm of closets.
---
Top tips for effective closet design and organization
Majority of individuals, in the present scenario, prefer custom closets over the ones available in the showrooms. This ensures there is no wastage of storage and you get maximum worth of what you have paid. Some individuals also attempt DIY, but it can deliver average results and can be risky, too. On the other hand, custom closets designed by professionals ensure the use of finest material and application of finest craftsmanship.
Check these tips to ensure your closet all your storage needs.
Examine your needs
The very thing related to planning about closet design is examining your needs. You need to consider all things that you plan to organize and store. This is an important analysis because every clothing category has unique storage needs. Bulky stuff like winter clothes are ideally stored on shelves/drawers, whereas the shirts and tees are usually stored using hangers.
Analyze the space
This is the next step after deciding what needs to be stored in the closet. If you have a whole room to be used for storage purpose, go for walk-in closet. If the area is limited, reach-in closet is your best bet. Also, check the lighting in the room. If lighting is limited, consider adding an additional light fixture.
Review all the possibilities
Analyze the pros and cons of different configurations and design elements, including size, color, number of shelving and drawers, etc. Check all the permutations and combinations to finalize the best one.
Connect with a trusted closet maker
A trusted custom closet system designer ensures the material is of the finest quality and the processes used for developing the closet ensure that it lasts long. A good closet maker will also guide you on how to get the best design according to your budget and space.
LifeSpan Closets is one such maker of closets that ensures that customers are fully satisfied. It comes with all the features discussed in the above point, along with numerous other benefits.
---
Factors to consider before deciding between closed cabinets and open shelving
We usually get confused when we have to choose between open shelving and cabinets. The confusion gets bigger when you try to get the advice from your friends or through some online forums. But, don't worry! We are here to help.
We will discuss every major factor to help you decide which the best option for you is.
Clutter
Well, clutter is something that frustrates most of the individuals. With open shelving, the issue of clutter is difficult to manage. But, with cabinets, you can easily manage the clutter. This happens because something which is not visible (and hidden behind the doors) can't give you stress.
Appearance
If the overall appearance of your room is something that matters, you should go for closed cabinets. It makes the room look more functional and organized. This factor becomes crucial when you plan to sell your home.
Budget
If your budget is razor thin, sticking to open shelving is a wise idea. But, if budget is not a constraint, the priority should always be closed cabinets.
Size of the room
For master bedrooms and living rooms, closed cabinets work perfectly. This is because you get the space to open the doors easily. For kitchen area, custom closet systems are suitable. Organizing the stuff in the kitchen becomes easier with open shelving. You can also increase your storage options in the kitchen with open shelving.
Cleanliness
You need to remove fur from clothes if they are placed openly. This happens if you have pets at home. But, if the clothes are stored in closed cabinets, then your clothes remain protected from fur and dust.
We believe that these factors will help you take the right decision without getting confused. If you are in search of latest custom closet designs in Minnesota, connect with our experts. You also get the facility to design your closet with the help of our online software.
---
Top tips to organize your out of season clothes
At season changes, an individual needs to store his/her out of season clothes. This is where your closet organization comes into play.
At LifeSpan Closets, we are the experts of closet organization. And, to make sure this task does not trouble you, we have listed some tips to help you organize out of season clothes.
Clean the clothes
Most of us store the clothes without thinking about cleaning them. But, this practice reduces the life of clothes and makes them prone to some degree of damage. Take your clothes for dry cleaning or wash them before placing them in a closet for a season.
Even shoes require cleaning
Cleaning before storage is not just limited to clothes. Even your shoes need buffing and cleaning so that scratches and dirt are removed.
Identify the areas for storage
After you have decided what you have to store, you should identify where it will be stored. Usually, it is advised to have extra closet shelving while getting your closet designed. This will be used throughout the year, as there isn't any time when you don't need to store off-season clothes.
Wardrobe lift is a nice accessory to store your stuff if you closet possesses sufficient vertical space. You can keep your sweaters and long-sleeve shirts in drawers or boxes. Multipurpose furniture pieces also become useful when it's time to store your clothes.
Don't forget to keep your clothes fresh
You have selected what to store and how to store. Now, it's time to ensure that your clothes remain fresh during their hibernation period. Keep the silky stuff free of wrinkles by using proper hangers. Place your suits on sturdy wooden hangers to maintain its shape.
Mothballs and cedarwood ensure your clothes are protected from insects. Place the shoes and leather purses in a dust bag to keep the dust away.
If you follow these steps, what you will get after the season is fresh clothes that you can use to flaunt your style.
To get custom closets with additional closet shelving for out of season clothes, connect with one of our experts via phone: 866-961-0004.
---
Storage ideas for individuals who are shoe obsessed
If you are a passionate shoe lover, the chances are that you face challenges related to storage of shoes. More often than not, the conventional closet shelving design fails to satisfy your shoe storage-related requirements.
You can follow these tips to increase the storage space without any compromise with the love for footwear.
Shelving
It is the most obvious and highly effective ideas for efficient storage. Get the shelving customized for the shoes. Make sure the shelves are designed in such a manner that vertical space is not wasted. To get a modern look, try open shelving. Open shelving also helps see your whole collection at once.
Use wire hangers
This idea is suitable if you don't want to invest in a new closet. Use pliers to convert wire hangers to place your shoes. Arranging and selecting the shoes becomes comfortable with this idea. But yeah, it doesn't look as classy as closets.
Use old wine crates
This is another idea where you have to spend minimally. Just modify your wine crate a bit according to your needs, and your shoe rack is ready to use.
Arrange shoes alternately
By placing the shoe of every pair in an alternative manner, you can minimize wastage. This idea ensures you don't face difficulties while taking out the pair you like.
Well, one thing is for sure. Nothing can beat a customized closet when it comes to storing a vast collection of shoes. The customized closets are more robust, visually appealing, and efficient than other storage options. Therefore, you must design your own closet by analyzing your requirements.
We, at LifeSpan Closets, have helped various customers who wanted closets, especially for their shoes. You can also design your own closet using our online software.
---
Three areas of your home where you can use custom closets
One of the common issues a homeowner faces is a lack of storage space. In some smaller homes, there is actually insufficient storage space. In some homes, space is not efficiently available for storing the stuff due to odd structure. Whatever may be the reason, the issues like clutter and difficulty in accessing the items arise because of this. But, the good news is that the custom closets are solving these issues of homeowners. The closets are not just limited to your bedrooms. You can also use them in the following areas:
The Garage
Apart from the vehicles, one can find tools, sports balls, and miscellaneous stuff in a garage. The clutter is not only irritating but a potential safety hazard. Sometimes, parking your car becomes a struggle due to this clutter. You can use our online software to design a closet for your garage. We will build an exactly same closet for you at extremely reasonable rates.
The Kitchen
Kitchen, which is considered the heart of every home, always struggles due to lack of storage space. Even if everything is placed in the cabinets, sometimes the struggle is to find the right when you need it the most. You can easily end these struggles just by customizing a closet from us. Choose the number of closet shelving according to your needs and size of the kitchen.
The Laundry room
Do you know what's more frustrating than washing your clothes? It's washing them in a disorganized laundry room. If you use a custom cabinet, you can easily store the cleaning products, such as detergents and fabric softeners. This closet can be used to store extra towels and linens.
With our custom closet systems, we have already helped numerous homeowners from different regions of the USA. You, too, can simplify the way you live by using our closets that come with innovative design for easy installation and modification. Check our website to choose your Custom Closet Design Online. Ask our designers on what to include and what to get rid of when designing your closet.
---