The foundation of a Lifespan™ system is the upper and lower wedge-rails; each rail is attached via stud locations in your wall. The system components then securely seat & hang on our patent pending wedge-rail, allowing you to move, change, or rearrange at any time. The Lifespan™ system will always fit your changing lifestyle and allow for expansion or contraction effortlessly. The standard 3/4″ Thermally Fused shelving unit is available up to 48″ in length, with unit heights up to 96″ ( still wall mounted ) – The product is backed by our limited lifetime warranty –
See installation information here – Installation
Download our product catalog by clicking here – Digital Product Catalog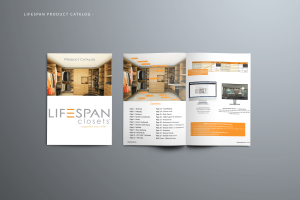 **Titles in orange may be clicked to view further information
In addition to our standard white melamine, we offer multiple different finishes, textures, and material choices to make your project unique and stylish. Custom project materials may be used upon request & approval
There are many options when it comes to creating your own Lifespan Closet system. Everything from shelving to closet rods & accessories utilize the vertically drilled holes inside each partition, allowing the system to adapt to multiple configurations or a new setup at any time
The wedge-rail is the foundation rail of the Lifespan closet system. It is sold in unfinished (raw) 6′ lengths with an included covering system
Standard partitions come in depths of 14″, 18″, or 24″ and heights of 24″, 36″, 48″, 60″, 72″, 84″, and 96″
Standard shelves come in depths of 14″, 18″ or 24″ and standard widths of 18″, 24″, 30″, 36″, and 48″
Custom widths available at no extra charge
Shelf support clips come in two styles: EQ and EQ CAM
Doors come in a variety of sizes to fit your needs, and hinges can come in regular or soft-close to add a special touch. If you're looking for a specific style of handle, we can personally work with you to get the look you're going for
Drawers come in widths to match the standard size shelves, with heights of 4″, 8″ and 12″, and depths of 14″, 18″ and 24″. The slides can be customized to come in regular or soft-close, side-mount or under-mount. The drawers are configured with pre-finished baltic birch material, proprietary dove-tail joints, and are shipped fully assembled with pre-drilled mounting holes for faces and slides.
Custom materials and sizes are also available upon request & approval
We carry a variety of accessories from Rev-a-Shelf and Sidelines, to Hafele and Tag Hardware… Including items such as jewelry drawers, pant-racks, tie holders and wine racks. Be sure to check out our photo gallery for more images!